Carhartt Coveralls
Nothing says -hard work- more plainly then a pair of top quality Carhartt coveralls. Carhartt has incorporated the features that matter most into their coveralls, features such as triple-stitched seams, reinforced pockets, tool pockets, hammer loops and metal rivets. Carhartt also offers several choices, the Carhartt insulated coverall, Carhartt Extremes insulated coveralls and Carhartt Extremes bib coveralls. What ever the job you can trust Carhartt to keep you warm. When you wear Carhartt coveralls, you're wearing a legend. Carhartt. Work Coveralls for the American worker.
1 items Page 1 of 1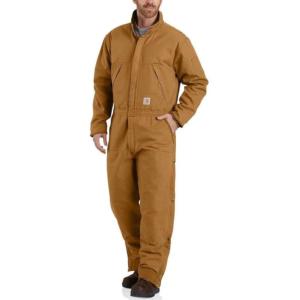 Washed Duck Insulated Double-Front Utility Coverall
Save $80
Sale Price:
$119.99


BIG
&
TALL
sizes available.
1 items Page 1 of 1
Carhartt is a registered trademark of Carhartt, Inc.