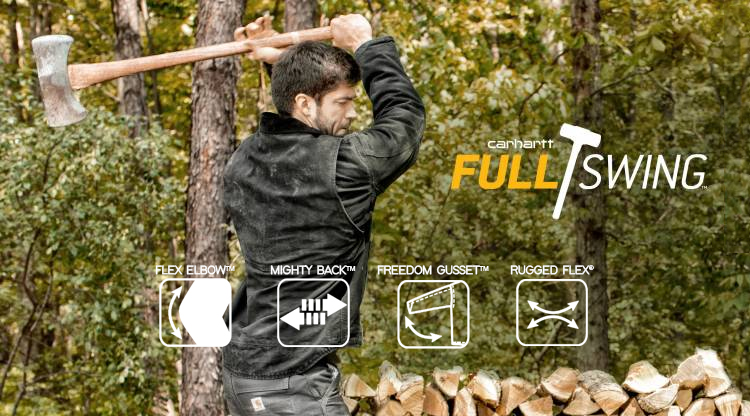 Carhartt Full Swing
Classic Carhartt engineered for maximum range of motion.
Carhartt Full Swing® was designed with feedback from 100's of workers to address the concerns that they were having around fit and movement. It's an innovative line of jackets, shirt jacs and pants that fit closer to the body with maximum range of movement to help workers move freely on the farm, construction site and everywhere in-between.
Your daily grind is enough of a fight. You shouldn't have to fight your gear too.
FLEX ELBOW™ - Creates less motion restriction and allows you to bend your elbow freely.

MIGHTY BACK™ - Provides instant recovery across the back of the jacket.

FREEDOM GUSSET™ - Allows the arms to move freely around. Helps swing tools with ease.

RUGGED FLEX® - Gives the fabric the ability to recover when stretched. Helps provide full range of motion.

5 items Page 1 of 1
5 items Page 1 of 1
Carhartt is a registered trademark of Carhartt, Inc.