What are your shipping rates?
UPS:
UPS Standard
$10.49
FREE for orders over $99 shipped to Continental U.S.*
UPS 3-Day Select
$21.95
Call for 2nd Day Rates
Packages sent to PO Boxes or APO/FPOs:
USPS Priority Mail
$16.95
Packages sent to Alaska, Hawaii,
Puerto Rico or U.S. Virgin Islands:
USPS Priority Mail
$24.95
*Note: Shipping may apply to orders qualifying for volume discounts.
When will my order be delivered?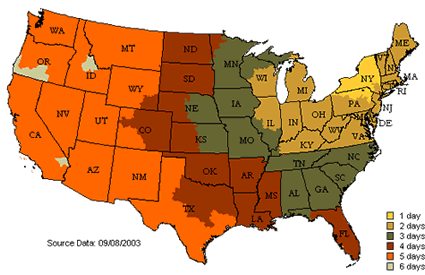 In stock items are shipped from our store within 1 to 2 business days.
Occasionally, items may be temporarily out of stock. Out of stock items are generally shipped within 7 to 10 business days, subject to availability from manufacturers. We will notify you promptly via email if any items are backordered and provide approximate delivery times.
Please note: Certain items may be shipped directly from the manufacturer. Please allow 6 to 8 business days for delivery of shipments directly from the manufacturer via Standard Ground delivery. Please allow 1 to 2 days processing time for 2nd Day Air or 3 Day Select shipments from the manufacturer. We will notify via email regarding specific items that are being shipped from the manufacturer.
All orders are shipped via United Parcel Service (UPS)except for PO Box, Alaska, Hawaii, Puerto Rico, U.S. Virgin Islands and APO/FPO addresses, which are shipped via U.S. Postal Service (USPS) Priority Mail.
See UPS Ground delivery time map above for estimated delivery times AFTER your order is shipped. These delivery estimates do not account for order processing time (1 to 2 business days). The delivery map above pertains to orders shipped from our store. Please allow additional shipping time for backorders and orders shipped directly from the manufacturer.
Tracking information for orders shipped from our store via UPS will be emailed to you when it becomes available. Or you may check your order status and view tracking information at the following link: Super Casuals Order Status.
We are not responsible for delays in UPS delivery times due to adverse weather conditions.
Shipping charges are not refundable.
Frequently Asked Questions
Should I contact you or the carrier with questions about my package?
If you have general questions about the delivery of your order or if you're wondering about the status of a backorder, please contact us
What do I do if the package looks damaged?
Inspect the package for damage before signing for the delivery. If the package is damaged but the merchandise looks unaffected, note the damage on all delivery receipts before signing. If the package is damaged to an extent the merchandise may be damaged, refuse delivery and contact us.
What if I accept delivery then discover a problem with the item after the driver has left?
If you discover a problem, please contact us. We may be able to resolve the problem without requiring you to return the item. You should retain all packing material until you're completely satisfied with the condition and performance of your purchase. That will make it easier to return the item if necessary.
What should I do if I need to change the shipping address after I have placed my order?
If you need to change the shipping address after you have placed the order contact us.

If a package has already shipped, UPS charges an $12.00 fee to change or correct the address.

So, if UPS has to correct your address because it was incorrectly typed or if important delivery information is missing (i.e. Suite, Apartment, Floor or Building Number) on the order, your credit card will be charged the $12 UPS correction fee.