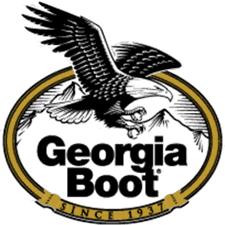 Georgia Boots
Shop Georgia Boots by Category
Georgia� Boots For over 60 years Georgia Boot has been a leader in the work footwear market. Based in Nelsonville, Ohio, the Georgia Boot company manufactures and markets quality work and outdoor footwear.
Georgia Boot revolutionized the work boot industry in 1992, with the introduction of its Comfort Core� Insole Technology and continually strives to bring new, innovative technology to the industry. Georgia Boot's core line of safety footwear is laboratory tested to meet the highest safety standards set by OSHA.
Every new material or component in each Georgia Boot is thoroughly researched and tested before it's incorporated into the footwear - making Georgia Boot the best choice whereever people work with heavy equipment, machinery and containers.