Bates 8 inch Tropical SEALS DuraShocks Boots- Made In USA
Bates 8 inch Tropical SEALS DuraShocks Boots- Made In USA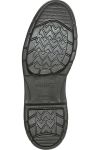 Women's version of Bates Tropical SEALS boot. Lightweight. Breathable. Comfortable.
Train like the Seals in Bates DuraShocks 8 inch leather and nylon boot.
DuraShocks
Bates patented, lightweight energy-returning outsoles feature built-in compression pads in the heel and forefoot that diffuse the impact of every step reducing shock to the feet and legs.
Direct Attach Construction
Proprietary Bates process that bonds the outsole system directly to the uppers making these boots remarkably flexible and durable.
Full grain leather and ballistic nylon upper
Cushioned removable insert
Bates DuraShocks shock absorbing comfort technology
Slip resistant DuraShocks outsole
Durable direct attach construction
Assembled in the USA