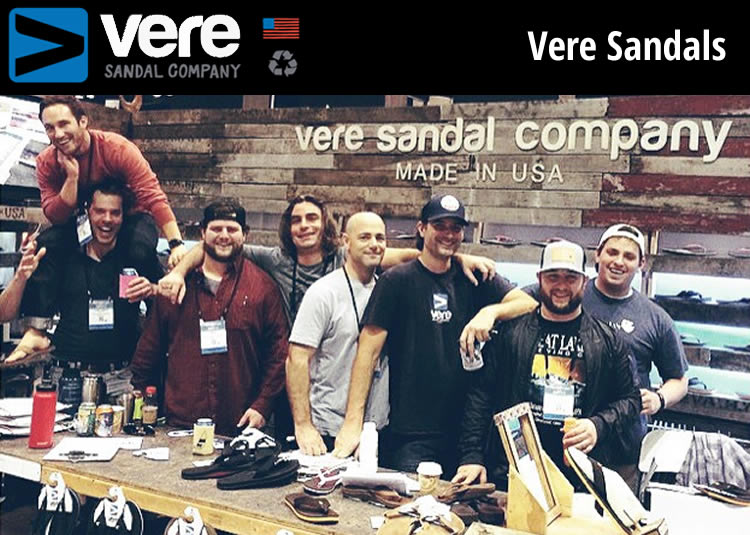 Vere Sandals
Vere Sandals
Vere Sandals are made in the U.S.A. with a mix of recycled and recyclable materials. Each model has been designed and produced to eliminate nearly all waste in the production process and our leather models are tanned without using harmful heavy metals.
Made here. Made better.
Our philosophy
Sandals really shouldn't be hard.They mean different things to different people - summer, vacation, freedom, the beach, everyday foot covering (for those lucky enough) - but they shouldn't be hard. They should be easy.
They should be comfortable as soon as you put them on. They should be made in such a way that's mindful of our environment, and strives to improve every season. And why can't they be made here in the U.S. providing jobs and keeping our hard-earned sandal money in our own economy? Oh yeah, and they should be every bit as comfortable and durable as any other sandal without costing much more.
Well, that's what we think. It's not as easy as it should be though. For one, there aren't any sandal factories like that in the U.S., so we built our own. Then there's the fact that since no sandals are made here, the raw materials are pretty hard to come by. Plus the fact that some of the processes and materials we ultimately want to use don't exist yet.
High quality, domestically manufactured, environmentally sound.
That's the challenge we've accepted. We're making them here. We're making them with methods and materials that are easier on the environment, that reduce or reuse waste, and we're going to keep pushing until we make the closed loop sandal. We're doing this all without sacrificing any fit, quality, or comfort you should expect from a good pair of flip flops - we actually think we can do a bit better. After all, the greenest, most job-producing sandals in the world aren't any good if you get blisters on vacation.