Super Casuals in Geneva has been named the 2010 Business of the Year by the Geneva Area Chamber of Commerce.
Super Casuals Named Business of the Year
by David L. Shaw/dshaw@fltimes.com
Wednesday, November 24, 2010 6:07 PM CST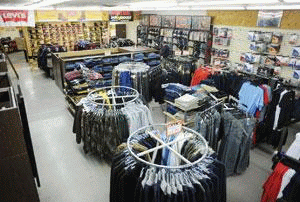 GENEVA -- Super Casuals, a downtown retail anchor for 60 years, is the Geneva Area Chamber of Commerce Business of the Year for 2010.
They will receive the honor at the chamber's annual dinner Jan. 28 at Club 86.
"There is no family in Geneva that deserves recognition more than the Fragnolis. Super Casuals has a great history and is a downtown anchor. They continue to provide a valuable service to all of us in the Geneva area," said Rob Gladden, president and CEO of the Geneva Area Chamber of Commerce.
"Super Casuals has earned the honor of Business of the Year due to its long and stable presence in Geneva, and the long and generous involvement of its owners and employees in the affairs of the area and its people," Gladden said.
Super Casuals, previously called the Super Army & Navy Store, has been an anchor store in downtown Geneva since 1950.
Josephine Fragnoli has been there the whole time. Louis Tandle has been involved since 1957, Bob Corcoran since 1975, Joe Fragnoli since 1978, and Steve Fragnoli since 1992.
Most of the store's 10 employees are full-time, have many years with the company, and are well known to many Genevans.
"This familiarity and loyalty has made the store an informal hangout and stop for many to discuss the issues of the day and catch up with old friends," Gladden said. "It is truly a jewel of downtown, with an impact on the community far greater than its economic effects, however significant."
Joe Fragnoli is past president and vice president of the Downtown Business Improvement District and has been on the BID board continuously since its inception in 1986.
He has been on the board of directors of the Geneva Area Chamber of Commerce and the Geneva Family YMCA, volunteered with the Boys & Girls Clubs of Geneva for its capital and endowment campaign for the Geneva Community Center project and at other club events.
Super Casuals donates money or goods to just about every event and cause in the area that makes a request, Gladden noted.
Josephine Fragnoli, who is currently homebound due to illness, has served on the board of directors of Catholic Charities of the Finger Lakes, Our Lady of Peace Parish Life Council, the board of directors of the Geneva Area Chamber of Commerce, the City of Geneva Revolving Loan Fund Committee and the board of directors of Geneva Scholarship Associates, for which she was fundraising co-chair.
Super Casuals was founded by Vito Fragnoli in 1950. He worked in a clothing store in Cortland during high school and when he finished service in the Navy after World War II, he came to Geneva and was captivated by all the activity generated by the Sampson military base in Romulus.
He then talked the owner of the Cortland Army-Navy store into opening a store in Geneva with him. In 1950, they opened the Geneva Super Army & Navy Store on the east side of Exchange Street. In 1951 Vito bought out his partner to become the sole owner of the business.
In 1957, Fragnoli purchased a building on the west side of Exchange Street and the old Market Basket, tripling the size of his store.
In 1970, at the age of 42, Vito died unexpectedly, leaving his wife, Josephine, and three sons, then aged 15, 13 and 3.
Although Josephine had no experience managing the store, she went to work with the help of Lou Tandle, who had been working at the store with Vito since 1957. Joe was also working after school at the store.
Joe went off to college and began a career with the Armstrong Co. In 1978, his mother called to tell him of an opportunity she had to purchase a building for the store on Seneca Street, which she offered to do if Joe was interested in returning to Geneva to manage it.
Joe said he would and 52 Seneca St. was purchased and the store was moved to its current location.
In the 1970s, the Fragnolis' business was moving away from traditional Army-Navy store goods and into a more casual line. To better reflect this and update its image, the name was changed in 1981 to Super Casuals.
Gladden said these were the times when department stores left downtowns for malls and suburbs. He said it was a struggle for a store like Super Casuals to remain, but it did, changing styles with the times and cutting margins to compete with larger competitors in higher traffic locations.
In 1992, Steve Fragnoli, who had been working for IBM after graduating from college, decided it was his turn to return home to the family business.
Staying with the trends and need to expand market share, Super Casuals went into Internet sales in 2001.
In 2003, the last Fragnoli son, Mark, based in Boston, began working full time for the company, managing its website and the technical aspect of the Internet sales business, which is now a large and growing part of the business.
"We are very honored to be named Business of the Year by the Geneva Area Chamber of Commerce, especially because this is our 60th anniversary," said Joe Fragnoli. "We are humbled knowing that there are many deserving businesses in Geneva that could be honored. We look forward to serving this community for a very long time to come, and we are grateful for this recognition."
------------------------------------------------------------------
Super Casuals
for all your
Carhartt
and
Levis
needs and More!!! www.supercasuals.com
For more info goto:
http://www.genevany.com/news/story/super-casuals-named-business-of-the-year.html
http://en.wikipedia.org/wiki/Carhartt
http://en.wikipedia.org/wiki/Levi_Strauss_%26_Co.