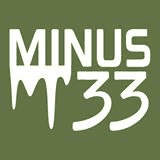 Minus33 Merino Wool Thermal Underwear
Minus 33 was founded when avid wool manufacturing engineers at L. W. Packard were discussing the fact that they were looking for high quality, warm, and comfortable garments for outdoor activities. There seemed to be gap from what is available, from expensive high end poorly made, to low cost inferior constructed synthetic textile garments. With the high demand for both types, prices are expensive to outfit these days.
Minus 33 was founded with the intentions of providing high quality, warm, garments to the Outdoor community. Minus 33, part of L. W. Packard in New Hampshire, is now increasing its line to include gloves, socks and undergarments for the 2004-2005 season. L. W. Packard a well established woolen mill in New Hampshire has been in business since 1916.
See you on the trails, slopes and water.
Currently, there are no products in this category. Check back soon for new additions!