Mad Bomber Hats
Mad Bomber Supplex Hats
The Mad Bomber Company is an outerwear manufacturer creating unique hats that combine natural resources with innovative high-tech fabrics.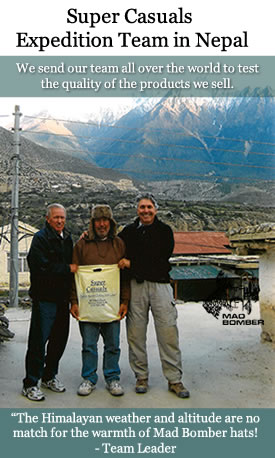 Hats of this style were standard equipment for military aviators on bitter cold, high-altitude bombing runs. Rabbit fur insulated hats provided a soft comfort and natural barrier to wind and cold. The hat's ear flaps drop downfor even more protection. Each Mad Bomber hat has a quilted nylon crown lining.
The name "Mad Bomber" was coined during the company's president's unstable ski-jumping career. Trading in China since 1978, Mad Bomber is the original and the world's largest "Bomber" hat manufacturer. Moving materials between Europe, America, and China Mad Bomber has truly become a multi-national company coordinating worldwide operations and promoting cooperation amongst diverse cultures.
Operating a joint venture factory in Manchuria reliant on thousands of self-employed Chinese, Mad Bomber is promoting free enterprise in China. Combined with Mad Bomber's diverse international distribution network in Italy, Russia, Sweden, Japan, Finland, Argentina, America, France, Norway, and England Mad Bomber is not only promoting entrepreneurial self-reliance but also understanding between peoples.
Using hemp grown without pesticides and organic cottons allows Mad Bomber to support local farmers in touch with their environment.
Mad Bomber is a member of The Conservation Alliance, a completely volunteer organization that returns all dues to grass roots citizen action groups working to protect wild and natural rivers, trails and land areas.