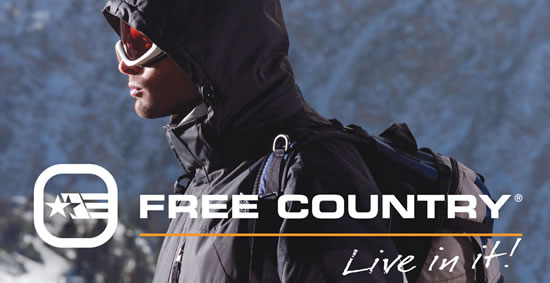 Free Country® Jackets
Since 1990, Free Country has manufactured casual outerwear and active wear inspired by a modern, active lifestyle and has emerged as a power in the apparel industry with a look and spirit that stands on its own. The company takes a different approach to outerwear by creating compelling designs through a fusion of active performance and fashion.
Free Country is authentic outerwear with a not-too-serious attitude. The result was a collection of men's and women's jackets constructed from active, high performance fabrics with rugged charm, smart styling and classic authenticity.

The company possesses a niche, not only in developing high quality, high performance fabrics for the active men's lifestyle, but also for translating these concepts into trend right styles that fit the lifestyle needs in the ladies market.

An active lifestyle is a fun lifestyle, and an active lifestyle needs the right clothing to live in. Comfortable, fashionable, affordable clothing that makes sense for when we are doing the things we love.

Free Country styling is often featured in leading magazines, such as In Style, GQ, Cosmo Girl, Lucky, Maxim, Life and Style, US Weekly, People, Star and Vibe. During the holiday seasons of 2002 and 2003, Free Country was one of few outerwear manufacturers to ever run a national commercial on television, and there will soon be another television spot in the near future. Billboards and street signage is another great tool for clearly illustrating the Free Country lifestyle to consumers around the globe.