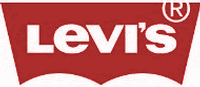 One pair of Levi's jeans uses 919 gallons of water during it's lifecycle. Yikes!
Levis is now doing something about it…
Levi Strauss Tries to Minimize Water Use – NYTimes.com
Levis Strauss water saving initiative
When Levis found out that one pair of their stonewashed jeans uses up 919 gallons of water over it's lifetime (including cotton growing, manufacturing processes and home washings), it was time to take action. In the age of Green, blue (denim) needs to keep up with the times.
How much water is 919 gallons, anyway?
So 919 gallons sounds like a lot, but how much is it really? It's difficult to actually comprehend what 919 gallons of water in one lump. Let's put some perspective on it. That's 4900 beers, a six-pack a week for over 15 years. Or 3480 bottles of water – two bottles a day for 4.7 years. Yeah, okay, that's a lot of water! And that's just one pair of jeans. Obviously, any effort to reduce this amount would benefit the planet, considering the number of jeans that Levis sells.
What does Levis do?
Levis started an initiative to help cotton growers around the world be more efficient with irrigation and growing techniques that save water.
They've also altered their production process. For instance, they now wash their stonewash jeans without water – just stones. So, in effect they beat the stonewash into their Stonewash jeans! What a racket that must make. We're not sure how this will affect the look of the jeans, but it sure saves a bunch of water. I imagine the amount saved exceeds the amount used to quarry the stones.
While that covers the manufacturing side of the equation, what does Levis now recommend on the consumer side?
Well, first, according to the new care label sewn into every new pair of their "Water>Less" jeans, wash properly.
Wash your jeans in cold water, and line dry. Donate them when you've had enough of them. Fair enough.
The less obvious choice, and one that Levis also recommends on their website is, well, NOT washing your jeans! They recommend going at least two weeks without washing. They don't elaborate on their assumptions as to how often you wear your jeans though. Are we assuming we wear the jeans every day? Okay, so you just stand them up in the corner every night and they're ready to jump into the next day. Air washed?
Actually, they recommend putting the jeans in the freezer to kill the germs that make them smell bad. (Don't sit too close to me!) So, folks, now you have an environmental excuse to forego doing laundry. Cool.
But seriously, Levi Strauss should be commended for taking the initiative to reduce it's huge impact on the environment. It's a big deal.
Read more:
http://store.levi.com/waterless/