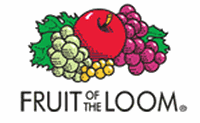 Fruit of the Loom
Currently, we are not offering products from Fruit Of The Loom. Check back soon for new additions!
Essential styles, outstanding quality and great prices for an overall superior value characterize Fruit of the Loom's Men's Collection.
Fit, comfort and durability are the hallmark features of Fruit of the Loom apparel. Like our exclusive Comfort-Loom waistband that adds a new dimension of comfort with our plush waistband backing that feels smooth and soft against the skin. Plus, our products are designed to fit your body comfortably with generous leg openings for greater ease of movement, and cotton-covered leg elastic that holds its shape all day, wash after wash.
Our T-shirts are designed for a gentle, comfortable fit and include our 'comfort label' printed on the tee that eliminates a label sewn into the shirt. Our legendary comfort, durability and value are built into every Fruit of the Loom T-shirt we make