Corcoran 8 inch Hot Weather Broad Toe Combat Boots
Corcoran 8 inch Hot Weather Broad Toe Combat Boots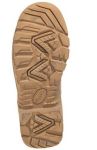 Made in USA!
Cushioned comfort in the most demanding environments. Vibram outsole and ankle support make every step sure and supported. Cordura uppers ensure lightweight durability.

Outsoles technically designed to enhance performance in a variety of environments. The perfect base for a boot, these outsoles provide durable, efficient and comfortable tread designs.

Cordura® stands for durability. It is 2x more durable than standard nylon, 3x more durable than polyester, and 10x more durable than cotton duck.
Features:
Desert Tan Rough Out Leather
1000 Denier Cordura® Nylon
Moisture Wicking Lining
High Speed Lace System
External Ankle Support
Cushioned Insole
Removable Antibacterial Polyurethane Footbed
Triple Rib Steel Shank
Cement Construction
Vibram® Outsole
Berry Amendment Compliant